Effective leadership, hiring and coaching means using impactful techniques and inspiring visuals!
Get ready to boost your business with web design, SEO, digital campaigns and social media.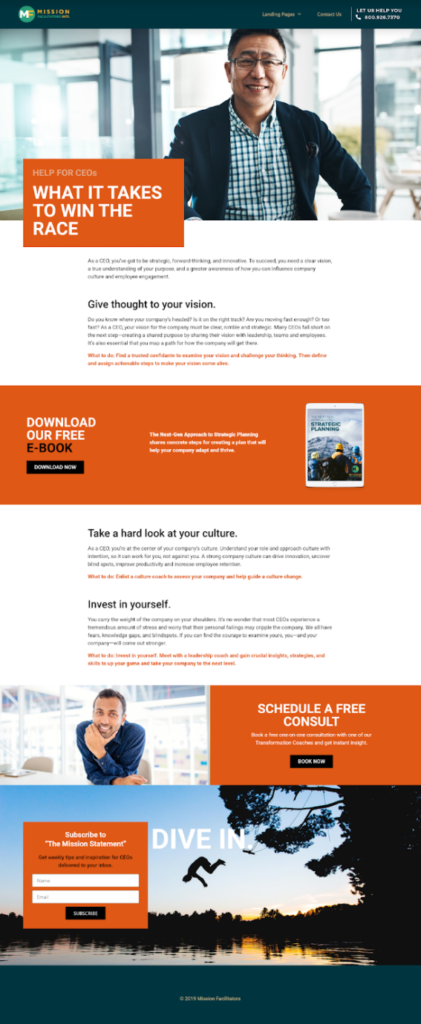 Photography & Videography
As the founder of Mission Facilitators, Dean Newlund is also the face of the company so photography and videography are essential to the company's branding & marketing.
zo agency creative team planned every aspect of Dean's photo shoot, from his several changes of attire to the interview prompts. For the backdrop, we chose the stage of Bend's historic Tower Theater, a nod to Mission Facilitators slogan "We stage transformation ."
To position Dean as a serious thought leader, our creative direction called for a darkened backdrop, dramatic lighting, and dark clothing to keep the focus on Dean's face. We used two video cameras to catch Dean's face from different angles which results in a more interesting video.
KEEP IN TOUCH & UP-TO-DATE
Marketing funnels & Drip campaigns
Our client meetings and brainstorming sessions helped us establish a funnel to reflect Mission Facilitators' different audiences and levels of engagement. We developed a multi-pronged marketing strategy to attract potential clients into the funnel (using organic and paid social media, podcast and audience specific landing pages like the one at the left). Once a visitor enters the funnel, we gradually increase their engagement with a carefully curated offering of weekly email tips, drip campaigns, webinars, downloadable guides and personal assessments. The funnel is built to ultimately convert a visitor into a revenue-generating client.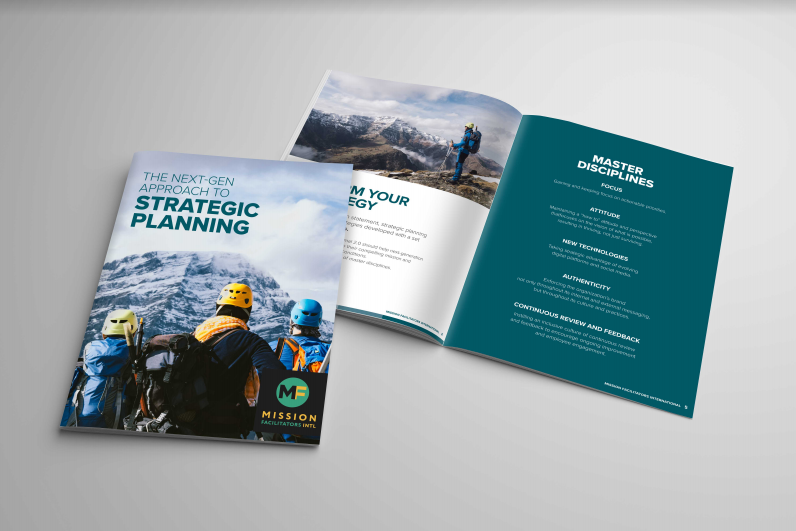 The client's white papers and video interviews provided rich source material for our copywriters who were tasked with writing copy for multiple ebooks, informative guides, pitches, social media posts, landing pages and more.
To ensure a consistent brand voice we've also polished copy on the client's website and other collateral.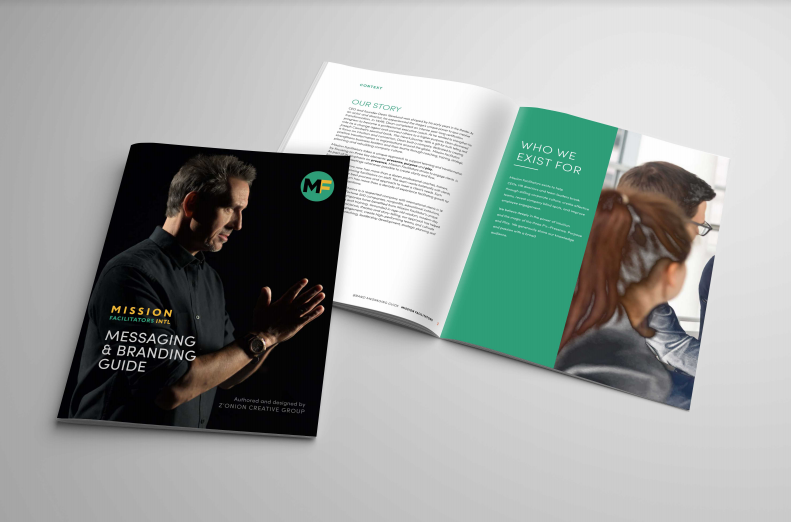 We guided our client through a variation of our Brand Messaging project, using questionnaires as well as three intensive meetings to tease out Mission Facilitators' origin story, audience segments, vision, brand promise and value propositions. The resulting Brand Messaging guide contains an abundance of ready copy for collateral, web and other customer-facing communication channels. The guide also gives our marketing team key messaging for each audience so we can ensure the message resonates with the reader.
It's time to give your brand and marketing a pulse.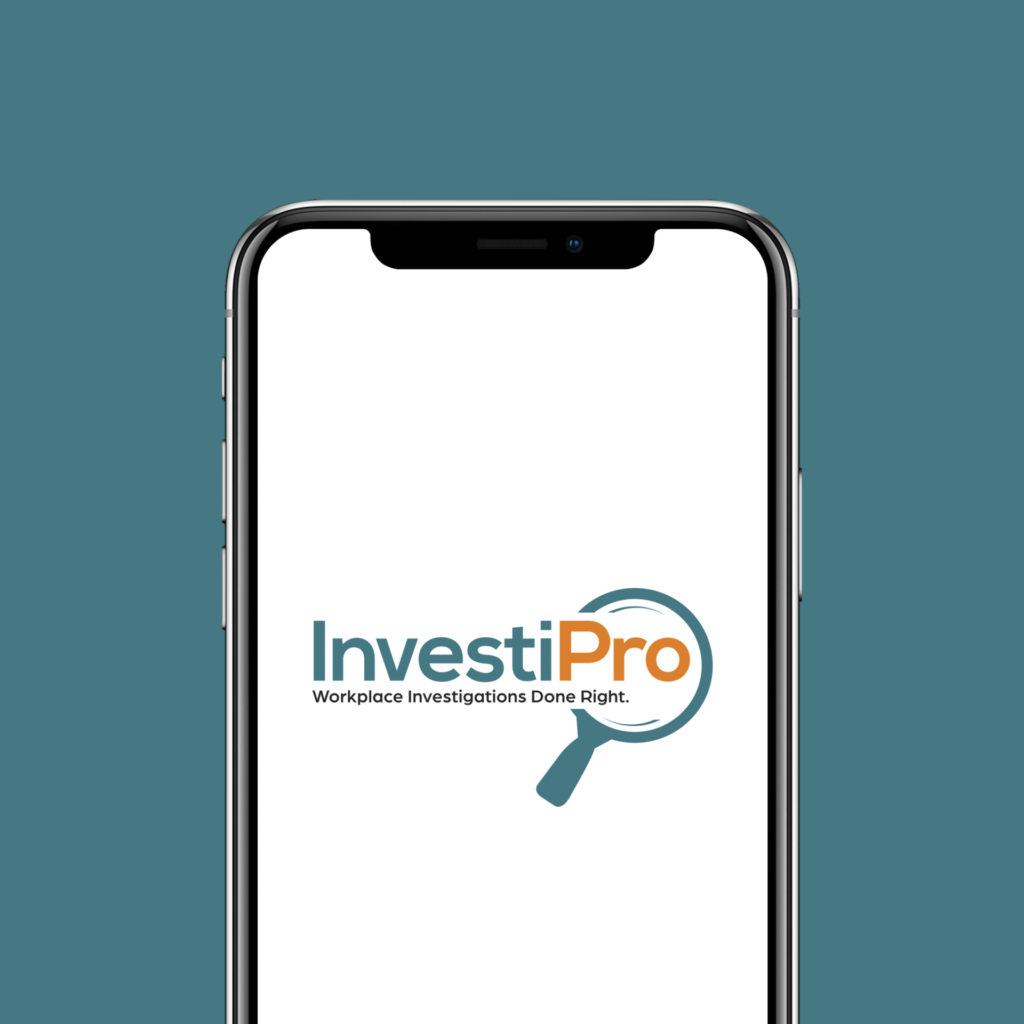 Investpro is a human resources tool, so we developed a human centric web concept.
We created dramatic visuals using curated stock portraits (some fitted together in bold geometric grids) to reflect the business owners, HR professionals and employees who benefit.
The client asked for a highly professional look so we limited the website to a clean, crisp color scheme of black, gray, teal and orange. The photos provided additional color interest.
Section by section the homepage creates an effective flow of education, features, benefits and social proof.
This page is built to convert viewers to customers. A prominent form encourages the curious to schedule a free demo of InvestiPro's software.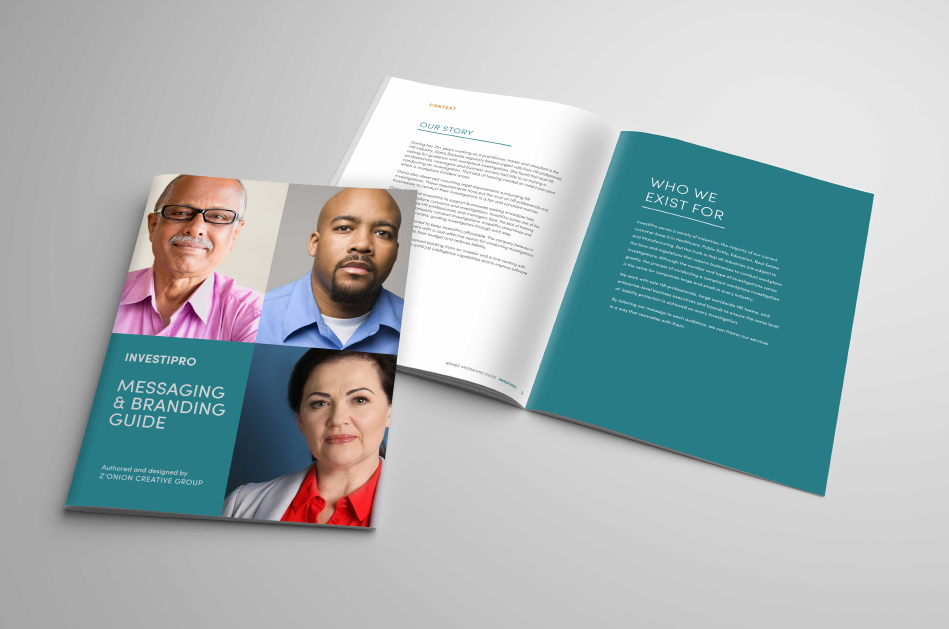 To emphasize the company's depth of experience in HR matters, we simplified the logo and limited the orange. This allowed us to shift the focus to the element "Pro". We also brightened the color palette nudging the dark hunter green to a teal with more energy.
InvestiPro's original slogan didn't emphasize a benefit, it was focused on the "what" instead of the "why". We revamped the slogan from "Online workplace investigation solutions" to the snappier (and more naturally spoken) "Workplace investigations done right".
We created tightly aligned marketing collateral using the same concept for the client's website and booth display.
InvestiPro rack card front features bright colors and a patterned grid of faces for a memorable hand out. The black keeps copy to a minimum so it's easy to skim and doesn't overwhelm one with too much information.
As an elegant counterpoint, we kept InvestiPro's identity suite of business cards, letterhead and envelopes refreshingly simple, carrying forward the dynamic arrow to communicate the company's forward-thinking approach.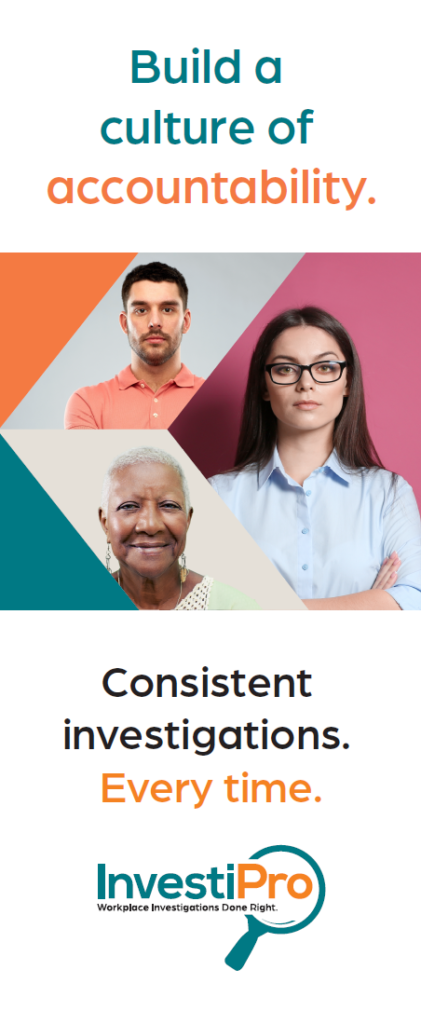 To help investiPto make a splash at an upcoming conference, we designed a highly visual, layered booth display to engage passersby.
A dimensional backdrop uses bright colors, dynamic shapes and close-up portraits to draw the eye and create connection. This backdrop is intentionally kept simple. The purpose is to pull visitors in, not overwhelm them.
A podium display in a single solid color provides contrast and puts the company brand front and center.
A layered table display uses a branded tablecloth and tabletop posters to offer more depth on a key feature of InvestiPro's service.
Our Brand Messaging process encouraged InvestPro to discover unique audience segments and explore the unique pain points of each group. By understanding the unique problems to be solved we were able to write targeted value propositions guaranteed to resonate with InvestiPro's different audiences.
The finished Brand Messaging guide informed the copywriting for InvestiPro's website, marketing collateral and display booth.
We're a talented tight-knit team of marketing pros based in Bend, Oregon.
We're passionate about our work, we treat our clients like family, and we're about as far away as you can get from a traditional agency.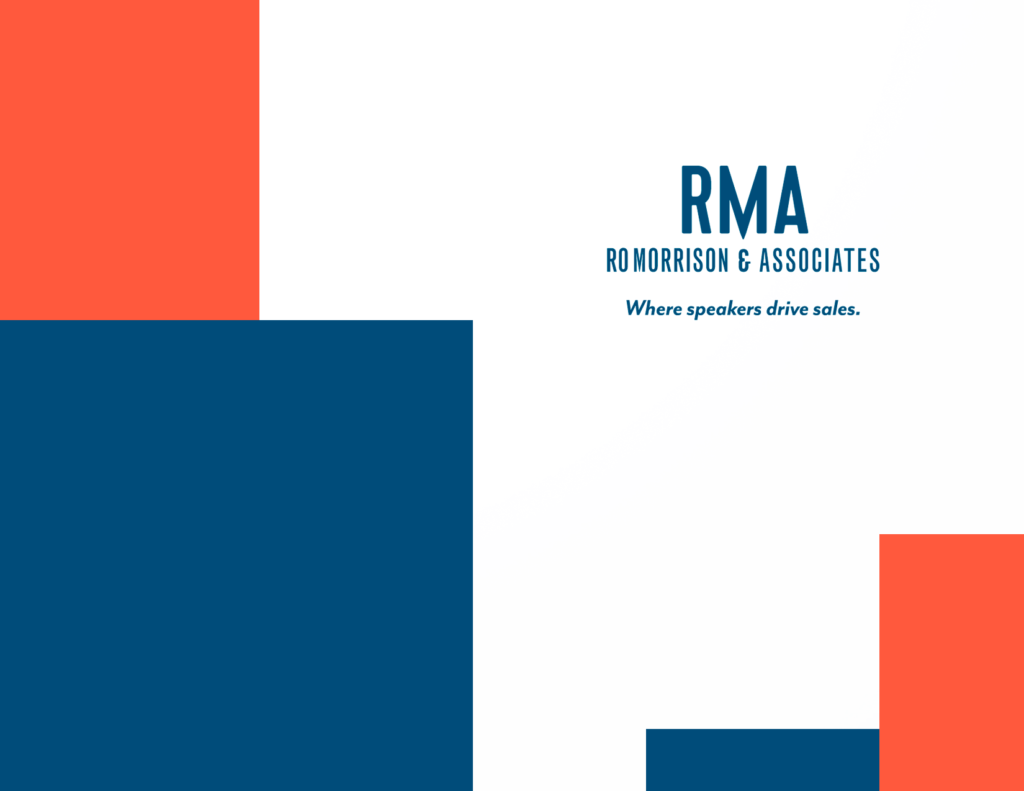 Every culture and company has its own brand. RO Morrison chose a sharp, clean and productive palette and font to echo its brand.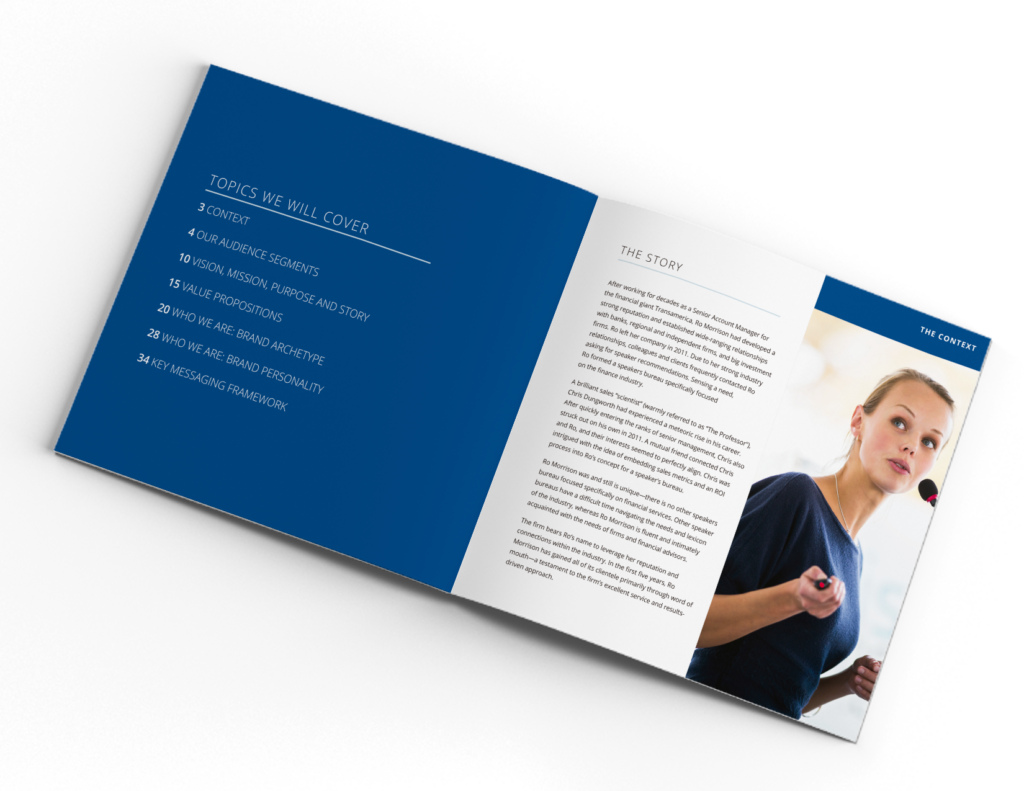 A leadership organization such as RO Morrison is easy to define with bold blocks of color, poignant copy and very direct fonts to tell the story.