Get your
Blueprint
For Success
Fine tune your marketing to get results with a blueprint tailored specifically for your company.
Are you using the best strategies?
Reaching the right audiences?
Tracking your return on investment?
If you're the owner of a small to mid-sized company, you know a lot about running your business—but marketing is not your forté. There are a thousand ways to spend your marketing budget—but do you know which marketing strategies make the most sense for YOUR business? And do you know which strategies give you the most bang for your buck?
What you don't know can cost you.
Not only in wasted marketing dollars. But also in missed opportunities. A poorly devised (or nonexistent!) marketing plan can hurt your ability to attract your best kind of customers and solidify your market position.
Imagine marketing without the
Know exactly how to reach the right customers at the right time.

Understand what's working…and what's not.

Make informed decisions and never guess again.
When you have a smart, strategic marketing plan, everything gets easier. Finding customers. Keeping customers. Rising above the competition. And recognizing good marketing opportunities from cash-sucking duds. Best of all, you can spend more time focused on your business.
A smart marketing plan
makes everything better.
Make all the right
marketing moves with
This is not your cookie-cutter marketing plan. Our Blueprint for Success is tailored specifically to YOUR business. We do a deep dive and analyze your assets, your past and current marketing, your company, your customers, and your competition.
Our marketing strategists identify your best marketing moves for maximum impact on your bottom line. And we lay it all out in an easy-to-follow format, so you can super-charge your marketing and transform your business.
How do you get your Blueprint? Read on.
Your Blueprint for Success provides a clear view of what's working and what's not in your marketing.
More importantly, it lays out how you can super-charge your marketing and get more out of every marketing dollar. Your Blueprint offers unique insight into your business, including:

• SUMMARIES OF YOUR ASSETS AND BRAND POSITION
• A REALISTIC ANALYSIS OF YOUR GOALS AND OBJECTIVES
• THE BEST ROI PRACTICES TO ACHIEVE YOUR GOALS
• STEPS AND STRATEGIES TO ACHIEVE SUCCESS
The best investment you'll make this year.
Spend just two hours talking with one of our strategists, and in a few short weeks you'll be rewarded with a customized Blueprint to guide your marketing. And it won't cost you a mountain of cash either. In fact, it's possible to get our Blueprint for Success absolutely free.
Our strategy session starts with
To create a tailor-made marketing strategy for your business, we need to do a deep dive—into your company, your competitors, your customers, and suss out everything you're doing (and not doing!) in your marketing.

Curious? You can download and preview our workbook. In a two-hour strategy session, one of our senior strategists will walk you through the workbook and gather all the information we need for your customized Blueprint.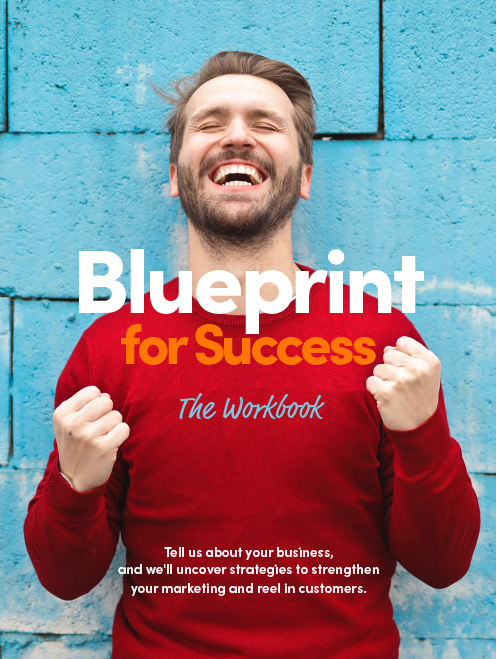 Get your blueprint for just
We promise, this will be one of the best investments you ever make. Because unlike those cookie-cutter marketing strategies, your Blueprint for Success is designed specifically for your business. It's ready to execute with clear simple steps—so you can take it and run with it!
A marketing strategy that's worth every penny. Or your money back. Guaranteed.
You read that right. If you choose to engage zö agency to roll out the steps in your blueprint, we'll credit the cost of your Blueprint against future services. And how nice is it to put the marketing experts who designed your plan with you, in charge of your marketing work? It's a double win for you and your company.
Get your strategy for free and a full-service marketing partner.
We're zo agency. We're a talented tribe of marketing wizards dedicated to small and mid-sized businesses. Get to know us.