WHAT WAS THE CLIENT'S ASK?
The leadership team at the Athletic Training Department sought a unified brand voice, website, collateral and digital campaign to reach students in new ways.
Bringing stakeholders together to share in the vision whether senior or brand new to the organization would be critical to developing all subsequent outbound communications and activities. We wanted to bring personality and connection to our materials and set ourselves apart from other Athletic Training Departments across the US, capturing our trailblazing spirit and superior first-of-its-kind program.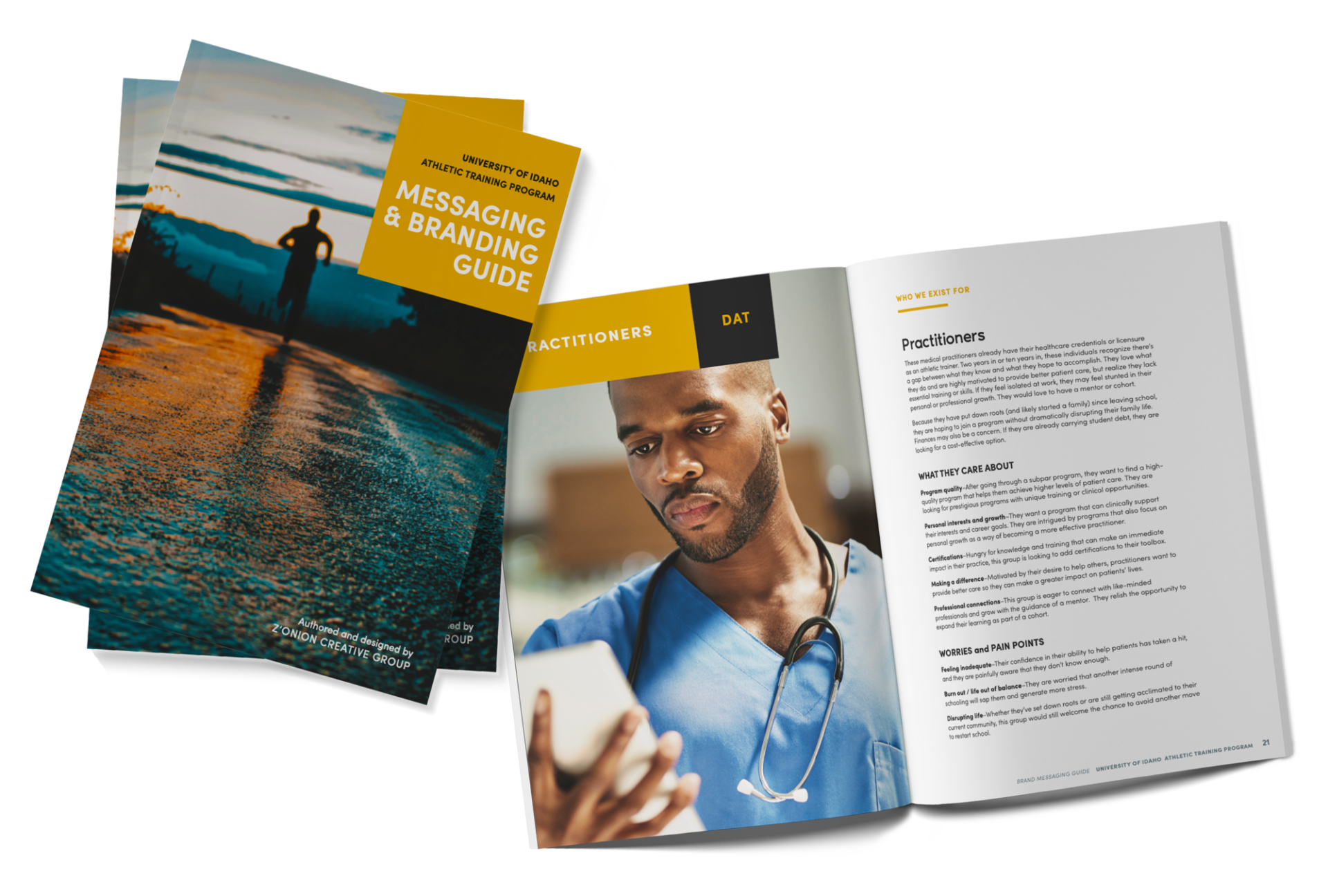 Unifying the voices of many leaders into meaningful content for potential students, consistently
In order to bring all voices together, we needed to have everyone participate in brand strategy including identifying archetypes, value propositions, mission, vision and goals as well as lexicon and imagery guidance. Once armed with this we were able to write and craft a gorgeous unique website where the potential student was at the center of the story. The narrative needed to speak to the goals and dreams of those potentially entering the MSAT and DAT programs beyond just data and class facts. From there we produced collateral packets that aligned with the site and the consumer journey for potential students to receive upon request as well as at conferences. Next, we drove forward with a comprehensive digital campaign using SEO, PPC and SMM to bring students into our fold!
WHAT SERVICES WERE PROVIDED?
We engaged in brand identity work and messaging to inform our deliverables
Brand Strategy, Brand Positioning, Marketing Strategy, UX Design, Website Development and Copywriting, Graphic Design and Creative Direction. Welcome packet, Conference collateral, Social media, SEO and PPC campaigns
WHAT'S THE IDEA THAT SPARKED SUCCESS?
UOI's athletic training department immerses its students in real life work credit while enrolled so they have hands-on experience during their education. Because of this, they're leaps and bounds ahead of other students graduating with the same degree and can literally hit the ground running in their career.
Brand Workshop, Digital Strategy, Collateral Planning, Website, SEO, Social Media, PPC
IN THE CLIENT'S OWN WORDS
"Sonja and the rest of the zö team have been working with our Athletic Training Programs through a rebranding process. It's clear that they are well versed and experienced helping not only identify our strengths but shed a greater light on our core identity as a program. "
Dr. Matthew Smitley, DAT, LAT, ATC, SFMA
"The work that the zö team has created far exceeded our expectations. Each part of the rebranding process from branding materials, website design, and digital campaigns have been thorough and pointed which has extended our reach further than we could've ever expected. "
Dr. Matthew Smitley, DAT, LAT, ATC, SFMA